Google Business Profile
Maximise your local search volume
Google Business Profile
Maximise your local search volume
What is a Google Business Profile?
A Google Business Profile is a free listing provided by Google. It allows your business to show in local search results and is integrated with Google Maps, making it easier for customers to find you.
Every successful business knows that an effective online presence is essential to reach potential customers. Moreover, a Google Business Profile is one tool that can boost your digital visibility. With a Google Business Profile, you can control your business's appearance on Google Search and Maps. It is where people will find your contact information, website, hours of operation, and more.
Hence, by optimising your Google Business Profile, you increase your chances of showing up in local search results. It means more traffic to your website and more customers walking through your door. A professional and detailed Google Business Profile is necessary for any business looking to increase its online visibility.
Factors For Showing In Search Results
There are 3 main factors that determine whether your Google Business Profile will show in a search result. These factors are listed below:
Distance – If you have a physical location, this is simple. If you provide a service at your customers' location, you want to be particular about the service area you choose so as not to disqualify yourself from the results
Prominence – How active you are with your listing? Have you taken advantage of all the relevant features? If you regularly update and post on your listing, Google looks favourably at it.
Relevance – Google aims to show the most relevant results to searches. This is why the business category, products, and services provided in the listing are essential and accurate.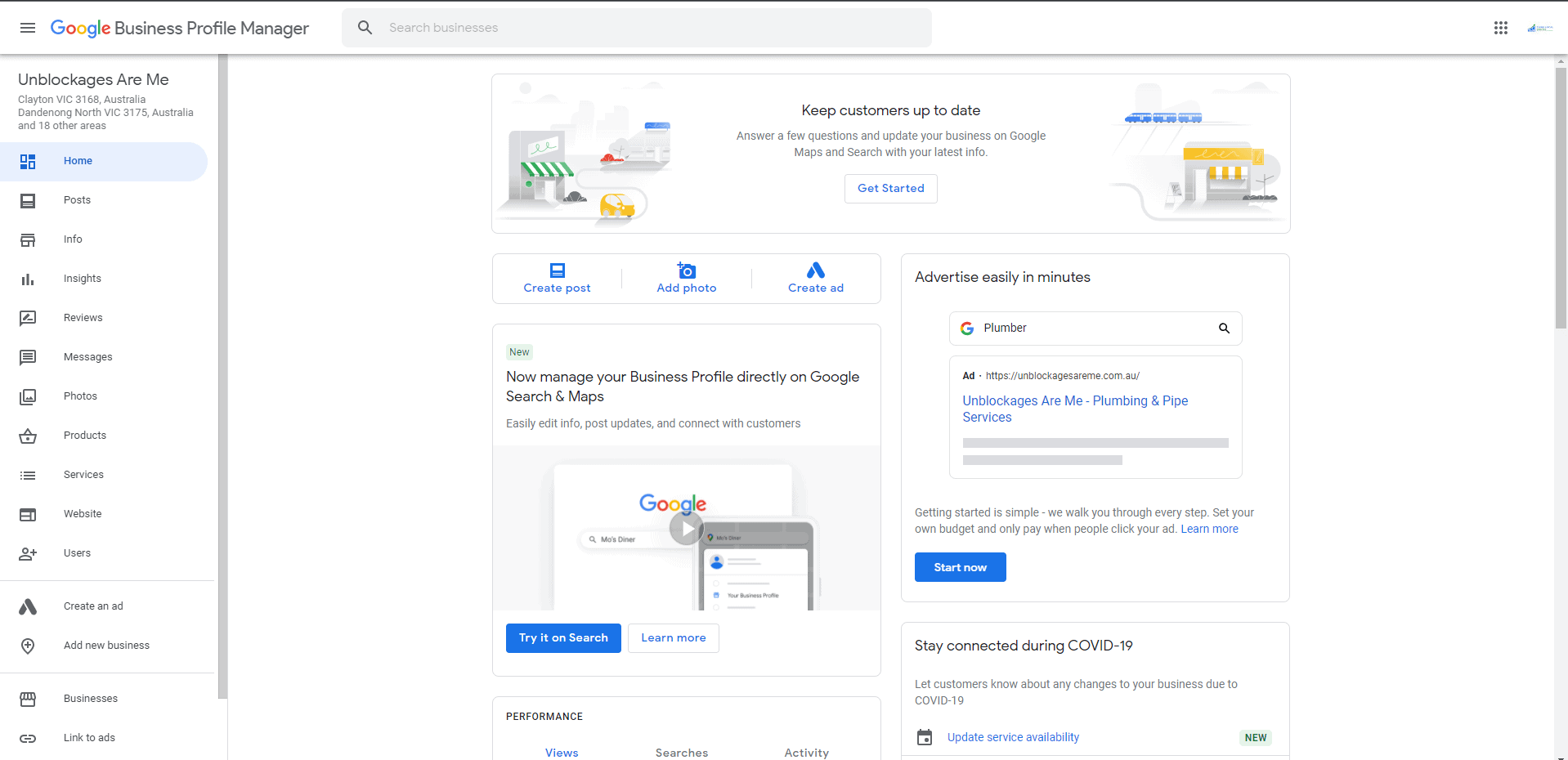 What Are The Benefits Of A Google Business Profile?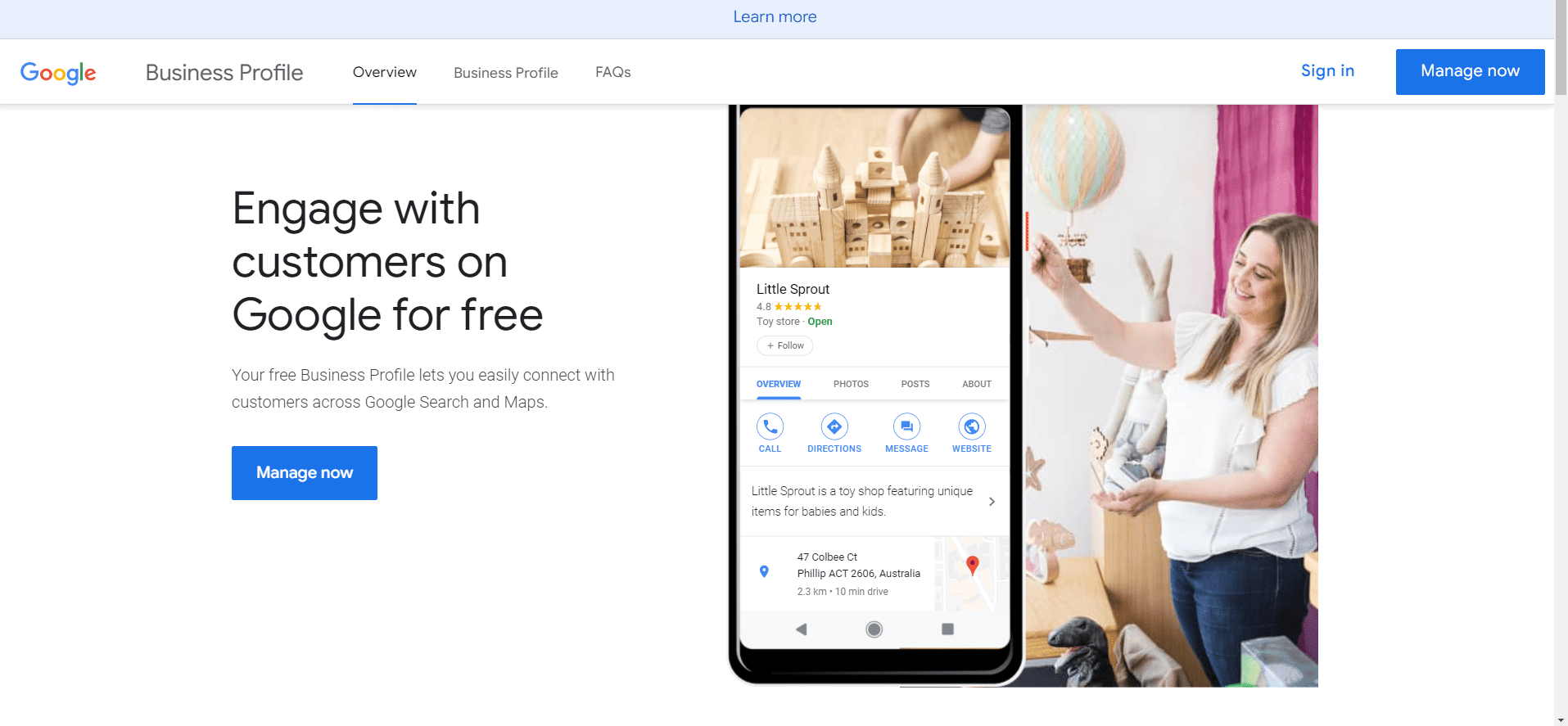 When people are searching for a product or service, Google considers all the relevant local business profiles and shows a selection within the Maps. With the increase in mobile searches, your business profile is a fast way to be found. Therefore, allowing customers to access your website, call you, get directions to your business, and read reviews. All from one easy access point.
If you use all the features of the Business Profile, Google will favour you in the results.
If you don't have a Google Business Profile, we will create one for you and verify it by Google. Whether it's a new listing or you already have one, we can update it. We add as much information as possible, using all the relevant features.
Some listings can be challenging to verify, or duplicates occur. We can help you if you've been caught in that process and you're frustrated with the difficulty of it all.
If you don't have time to manage your listing, we can also look after that for you. In consultation with you, we can write regular, relevant posts, which will improve the relevance of your listing. This keeps Google happy.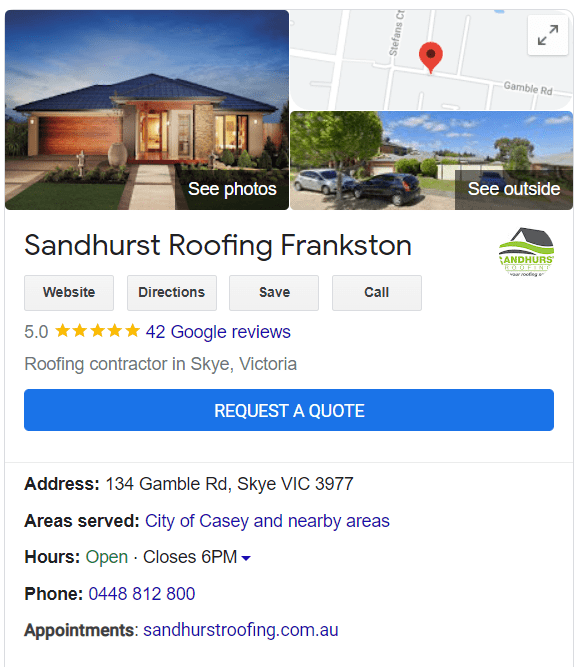 Verify Problematic Profiles
Let us take over the process if you've been trying to verify your profile and run out of patience. Yet, we've been able to help many others when the process has become too complicated.
Create New Profiles
The creation and verification of your profile is the first step to growing your online presence with Google.
Update Existing Profiles
If your profile has been active for a while and you've never done anything with it, we can update it and ensure it uses all the features. Thus, this will give you a better chance to show in the search results.
Managing Profiles
For our clients who understand the significance of their profile, we manage it on an ongoing basis. Nonetheless, we ensure all the features are used to their advantage and any new features get added quickly. Yet, we write regular posts and update photos to keep the profile fresh and on Google's radar.
Karen, Rod and their team have taken my failing marking/website and turned it around 100%. The work and quality of leads generated by their expertise has been amazing. I was very despondent and getting ripped off by other marketing agency's. The other Marketing agency's had very poor results for investment and there were never ending ploys to want you to spend more and then we can show results. With TLD they had a clear plan/strategy to achieve the results i was looking for whilst being cost effective. I can't thank them enough for the way they have transformed my digital online presence. Look forward to future with the TLD team.
I have done three 1-hour sessions with Rod to help me understand more about keywords, SEO and backlinks. Rod has been very helpful and is clearly very skilled in what he does. I would strongly recommend working with Rod if you need to grow your digital skills. Thanks heaps!
Sanjee Wijekoon
2023-08-29
It was a pleasure working with both Rod and Karen on optimising Google my business page, relevant Google reporting tools and setting up Google ads to increase overall online presence of my small business. Their wealth of knowledge, experience and willingness to help is commendable. I highly recommend both Rod and Karen for any small business owner!
Highly recommend George at Complete Step! He is treating my Plantar Fasciitis with an amazing laser machine. Fantastic, quick results with this new technology. George has been so kind and compassionate regarding my pain, and has gone above and beyond to help me become pain free as soon as possible.
Karen was well informed and prepared for our planning session. She answered all the questions I had and gave great insight. This session highlighted areas of my business to work on and future development areas. Thankyou again
I highly recommend working with Karen and Rod for your digital marketing needs. Their expertise in SEO and Google Ads is great! I have been working with them for over a year now and their delivery of services has consistently exceeded my expectations.
Love their work
Michelle Herbison
2023-02-01
Rod really knows his stuff! He helped me set up the right tools to get my lead generation on track. If you're looking for help with getting found online, check him out.
Tell us about your business
Indeed, our team is ready to work with you and help you grow your business by improving your online presence.